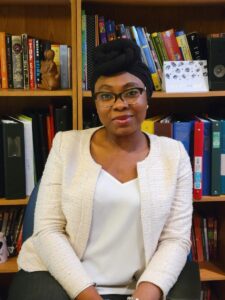 Ajirioghene (Ah Jiri Or Ganeh) Evi is passionate about working with individuals, families, groups, or communities that are culturally diverse and not necessarily the celebrated norm. Almost two decades in public service work, and this continues to be the driving force for her. She enjoys assuming several roles in the community, from working and supporting grassroots work and initiatives for deserving equity groups to engaging and educating private and corporate entities on how to dismantle systemic racism and promote equitable outcomes for their clients and service recipients.
Ajirioghene's Child Welfare background started with direct child protection work with survivors and perpetrators of domestic and intimate partner violence. 
However, it was not long before she started working with Black and racialized service recipients due to the culturally inclusive lens and approaches to her work, especially with Newcomers to Canada, via a proactive and preventative engagement in the community. In addition, she worked as an Equity Lead in her management role to move forward with the One Vision One Voice (OVOV) mandates and recommendations. This involved serving a pivotal role in coaching, training, and mentoring staff, foster parents, and community partners in anti-black racism, oppression, marginalization, and its intersections. In addition, her role included advocacy, policy development, outreach, community engagement with Black children/youth and their families, providing support, and linking individuals to identified resources.
In her crucial role as Community and Engagement Specialist at the Ontario Association of Children's Aid Societies, she leads OVOV's community engagement strategy and program communication activities within the Child Welfare sector and the public. This includes working with Government and Stakeholders Relations within Child Welfare to address the unique needs and concerns of Black children, youth, and families.
Ajirioghene volunteers in an inaugural role as Executive Director of a Black-led Not-For-Profit organization, Kind Minds Family Wellness (KMFW), which was nominated as a 2022 Agency of Excellent by the United Way-Waterloo Region Communities. As the Executive Director, she oversees the administration, programs, and strategic plans of KMFW. In addition, she ensures the enhancement of KMFW's image is active and visible in the community by working closely with other professionals and civic and private organizations.
As an educator in her part-time Faculty role at Wilfrid Laurier University, she supervises, coaches, mentors, and teaches graduate students in Social Work. In addition, she supports interns of Master's level students and college students in her volunteer and paid employment roles.
Training and education are critical to Ajirioghene's passion for giving back. She achieves this through freelance consulting and teaching on dismantling Systemic Racism, Cross-Cultural Leadership, and Change Management Strategies.
In 2022, Ajirioghene was selected as a recipient of Canada's Top 100 Black Women to Watch from the Canada International Black Women Excellence. This award is for her outstanding achievement and a great testimony of the impact she, her work, and her accomplishments have on the people who witness this around her.  
In 2021, Ajirioghene was recognized and nominated for the Master of Social Work Field Instructor Award by Wilfrid Laurier University. This award was for her invaluable mentorship of Master of Social Work students and contribution to field education.
Ajirioghene holds a Bachelor of Arts (BA) degree in Social Development Studies and a Bachelor of Social Work (BSW) degree from the University of Waterloo. She also has a Master of Social Work (MSW) degree from Western University.