Our Corporate Leadership Development Courses
Since 2015, PARKER HR has delivered tangible improvements to organizations in Canada by enabling leaders, managers and professionals to reach their full potential through transformational learning experiences. 
We design and deliver corporate leadership training as well as over 20,000 courses in 130 categories across a wide range of disciplines with our partnership with Open Sesame. Our courses are offered face to face, online in virtual classrooms, and in blended learning formats.
We combine senior-level practical experience with academic thinking to bring together experts across a wide range of disciplines in order to help delegates acquire highly relevant knowledge and skills that they are able to implement immediately in their roles. We are well-known for providing excellent client service, as evidenced by our high levels of client satisfaction and repeat business year after year.
The highest quality Learning content tailored to fit the needs of companies like yours
In the field of leadership and development training, we strive to be at the leading edge of training provision backed up with research, and when it comes to professional development courses, we are able to meet the needs of our clients. Our corporate leadership learning courses help close knowledge gaps and drive measurable outcomes. Whether you are a small team or a large corporation, PARKER HR offers flexible options to work with your corporate learning goals and budgets.
Future-proof your team with PARKER HR Corporate Leadership Courses 
Accelerate workforce skills development with an online learning platform built to maximize learner engagement and long-term learning benefits. The PARKER HR for Corporate Leadership courses offers thousands of leadership concepts, taught by experts in high-demand fields of study. Our courses are based on the science Harvard Mentor and harness the powerful combination of an innovative approach to learning and new technology to deliver essential, actionable and sustainable training for your team.
Our Value Proposition
Along with our corporate leadership courses, We meet our clients' requirements by providing:
Read More About Your Instructor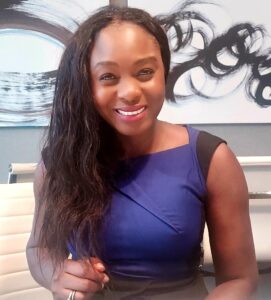 GIFTY PARKER Founder | Executive Director at PARKER HR Solutions,
Professor at UCW Corporate trainer and HR Consultant for SAS,
Manufacturing, Financial Services, Transport, and Hospitality Industries.
Empowering leaders and top executives with a unique perspective and appreciation that human capital is every organization's greatest asset. Gifty is a Human Resources (HR) professional with over 20 years' of international experience in talent acquisition learning and development and performance management. She is a strategic and innovative HR professional who translates business vision into HR initiatives that improve performance, profitability, growth, and employee engagement.
Gifty empowers leaders, collaborates with top executives, with a unique perspective and appreciation that human capital is every organization's greatest asset. Her international experience has provided her with numerous opportunities to transform human resource challenges into opportunities for better and more efficient business services.
Learn More About PARKER HR
Yes. Learners attain a certificate of application once they can prove the application of the lesson learned at the end of the course.
At this moment we have the following Corporate Leadership training courses.
Communicating with Influence: The Communicating with Influence online short course from PARKER HR Solutions for Corporate Leadership Development provides comprehensive insights and a range of tools to develop impactful communication.
Leaders in Transition: Transitions are inevitable in work and life. Navigating them well is every leader's responsibility and with each transition, every leader must adapt their skills to face the new set of challenges.
Managing people: Learn the fundamentals of managing and developing people during uncertain times. Learn the fundamentals of 3-D dimensional change and the development of your sapient leadership.
To understand additional details about our training courses, you are required to complete this free 30 min consultation form and speak with our HR consultant https://mailchi.mp/parkerhrsolutions.com/free-30-minute-consultation-parkerhrsolutions. Also, you could review our corporate training courses available at: https://parkerhrsolutions.ca/learning-and-development/