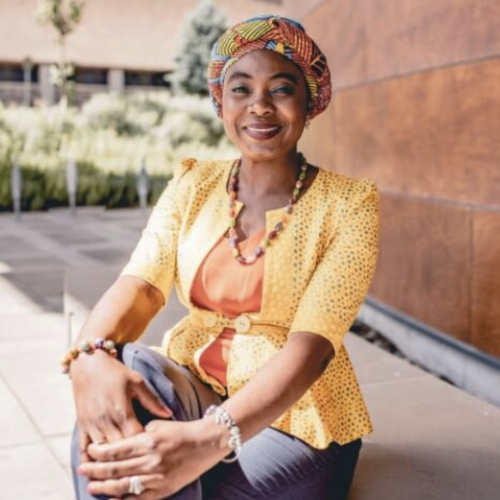 Ajirioghene (Ah Jiri Or Ganeh) Evi
Equity Diversity Inclusion Non-Equity Partner at PARKER HR
Executive Director at Kind Minds Family Wellness 

Community Engagement Specialist at OACAS
Ajirioghene is passionate about working with individuals, families, groups, or communities that are culturally diverse and not necessarily the celebrated norm. Almost two decades in public service work, and this continues to be the driving force for her. She enjoys assuming several roles in the community, from working and supporting grassroots work and initiatives for deserving equity groups to engaging and educating private and corporate entities on how to dismantle systemic racism and promote equitable outcomes for their clients and service recipients.
In 2022, Ajirioghene was selected as a recipient of Canada's Top 100 Black Women to Watch from the Canada International Black Women Excellence. This award is for her outstanding achievement, and a great testimony of the impact she, her work, and her accomplishments have on the people who witness this around her.
Ajirioghene volunteers in an inaugural role as Executive Director of a Black-led Not-For-Profit organization, Kind Minds Family Wellness (KMFW). As the Executive Director, she oversees the administration, programs, and strategic plans of KMFW. In addition, she ensures the enhancement of KMFW's image is active and visible in the community by working closely with other professionals and civic and private organizations. Ajirioghene holds a Bachelor of Arts (BA) degree in Social Development Studies and a Bachelor of Social Work (BSW) degree from the University of Waterloo. She also has a Master of Social Work (MSW) degree from Western University.
As an EDI Non-Equity Partner, Ajirioghene supports our clients in the capacity of a seasoned Equity, Diversity & Inclusion (EDI) leader who loves being in environments where change is championed, not feared. She considers herself to be a strategic problem solver and loves using data to inform decision-making, and she brings her lived experience to her work with an infectious enthusiasm for all things EDI.